Back to all posts
Posted on
Gear Up For School Program - Free School Supplies for Metis Children in Head Start, Kindergarten, Grades 1 & 2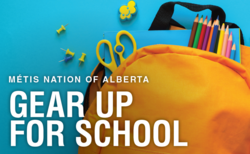 The Métis Nation of Alberta (MNA) Children and Family Services Department is excited to deliver the Gear Up For School Program to Alberta Métis families with students entering Head Start, Kindergarten, Grade 1, and Grade 2 in September, 2020.

Eligibility Criteria:
- All eligible students must be entering Head Start, Kindergarten, Grade 1, or Grade 2 in September of 2020
- All eligible families must be currently residing in Alberta
- The parent/guardian or student must be a citizen of the MNA to qualify for this program
(need to get registered? Please contact the MNA Registry Department at 780-455-2200)
- Applicants must be able to pick up school supplies from the regional office in the region in which they reside

If your family meets the eligibility criteria above, please complete and submit this application form. The application will begin processing once all information is received by the MNA Children and Family Services Department.

MNA citizenship cards will be required upon school supply pick-up at the regional office.
If a child is not yet an MNA citizen, the parent/guardian must provide their MNA card as well as a document to prove guardianship of the child such as a Long Form Birth Certificate, Alberta Health Card, or school registration form with parent/guardian and child listed.

Please contact MNACFS@metis.org with any questions regarding this program.
The application form can be accessed through this link: http://albertametis.com/programs-services/cfs/