Back to all posts
Posted on
Virtual Scholastic Book Fair May 16-20, 2022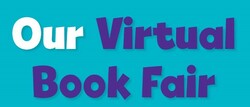 Scholastic Virtual Book Fair link: https://virtualbookfairs.scholastic.ca/pages/5183830
Fair START Date: May 16, 2022
Fair END Date: May 20, 2022
Students and Family!
Our Book Fair will be in-person for students and virtual for friends and family! As always, the Book Fair is a fundraiser for the library and all purchases made will give a percentage of the total sales in credits/money for the library to spend to get some great new books for all grades to enjoy!
While the students will be making WISH Lists on Monday and Tuesday then purchasing on Wednesday and Thursday as a classroom group. Friends and family will have access for the full week to the on-line book fair!
STUDENT FLYER: https://virtualbookfairs.scholastic.ca/pages/5183830
BOOK TRAILER VIDEOS: http://scholastic.ca/bookfairs/resources/parents
FEATURED BOOKS: https://www.scholastic.ca/bookfairs/featuredbooks
To save on shipping - All Virtual orders will be shipped to your school address to be distributed at the end of your Book Fair. Please enter the student's name after your last name on the order. If students are picking up the order, please send them with the order number you received.
If you have any questions or concerns, please email Ms. Statham and she will get back to you ASAP!